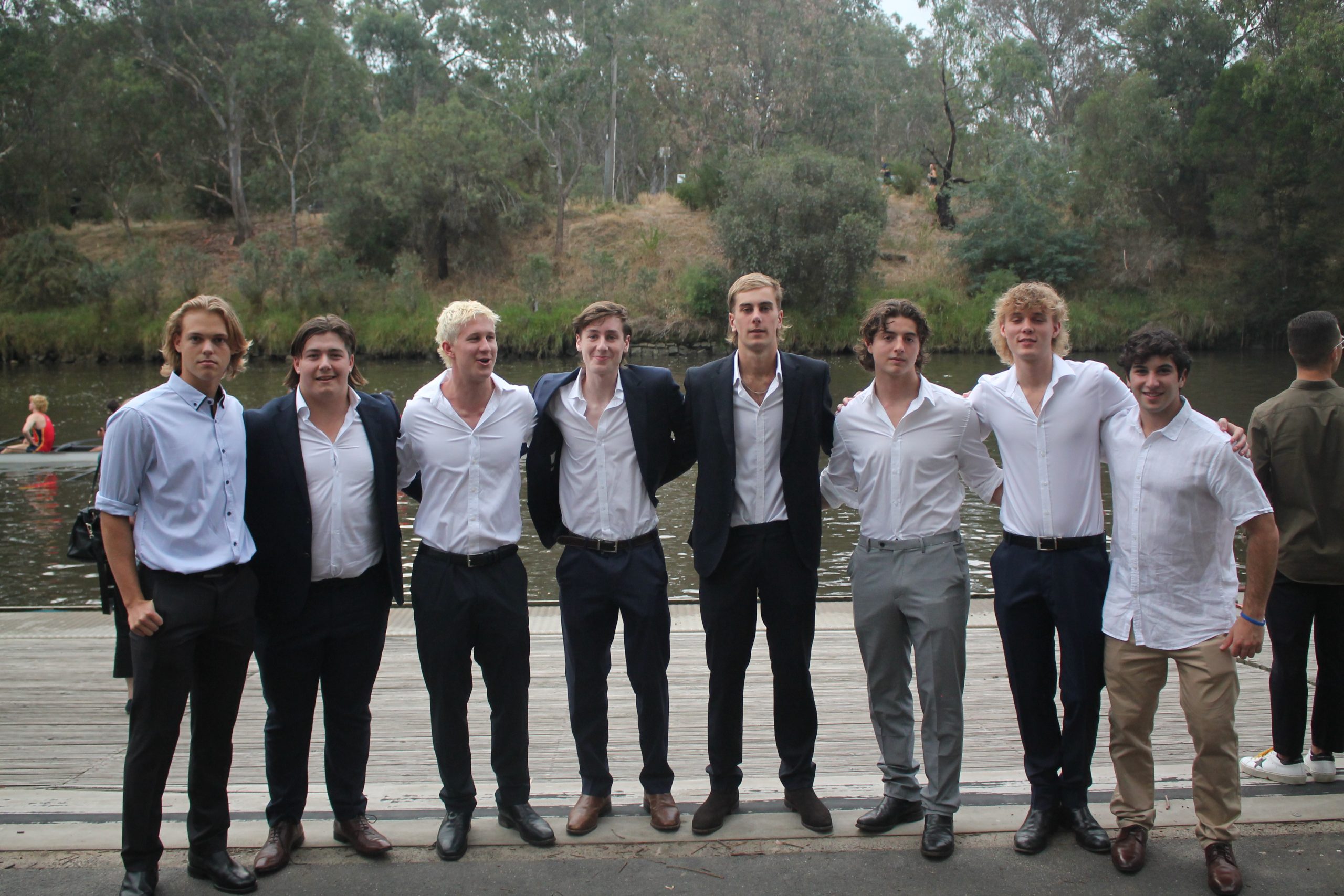 The 2023 Don Macmillan Cocktail Party held on Wednesday 15 March saw the largest attendance for years on a perfect evening.
Two boats were christened in honour of 2021 [sic] Olympic Games coxes James Rook ('15) and Stuart Sim ('11), with James speaking about his pathway through the Scotch College Boat Club. Stuart works in the USA and was represented by his father, and fellow Head of the River-winning cox Mike ('78).
Following a row past by the 1st and 2nd VIIIs, the attendees, including Principal Scott Marsh and Council Chairman Alex Sloan ('71) adjourned to the Boykett Room, where Cardinal Club President Ross Burney spoke and introduced members of decade crews from the 1963 to 2013. The highlight, though, was the sole surviving 1933 1st VIII oarsman, the Rev. Bill Morgan, who is 107 years old. Max Jeremijenko ('22) gave a fascinating first-hand account about winning the 2022 Head of the River, and 2023 OSCA President Stephen Webster ('73) gave a wonderful insight into how his crew pioneered Scotch crews competing overseas in 1973 at the instigation of David Boykett ('51) and under the coached of Don Macmillan.
Donald Robertson Thomson Macmillan (1928-2004) attended Geelong College, where he rowed in the 1st VIII from 1944-46, winning in 1944, and catching a crab while leading the 1946 race to give Scotch a one foot win. He ran in the 1952 and 1956 Olympic Games, and after teaching at Geelong College moved to Scotch in 1959, where he coached the 2nd VIII to wins from 1959-63. Due to coach the 1964 1st VIII, he was badly injured in a car accident and began coaching it in 1965. Don coached Scotch crews to wins in 1966-67, 1969 and 1973, with his 1966 and 1973 crews setting records. With the exception of 1972 and 1978-82 he coached the 1st VIII, leaving an indelible imprint on his crews and on the Scotch College Boat Club. Originally the Don Macmillan Lunch, in more recent years the event has become a cocktail party that enables more to come together to celebrate Scotch rowing.