Class of 2022 Parent Resource | Life Beyond Scotch.
Students typically face many challenges, in their first year out of school, including independent learning, mental health, connecting with peers and alcohol, to mention but a few.  Many boys may feel 'lost and isolated' in their first few years.
Hear tips and tactics from Nick Clark – Scotch College Psychologist, James Lamont ('06) – Snr Partner Fusion Graduate Consultancy and Teddy Webster ('17) – President Young Old Boys.
Please note: Nick Clark is the School Psychologist and provides psychological services to current students only. Nick is not available to Old Boys and their families.
Click here for the 'Motivators Activity'
Gotcha4Life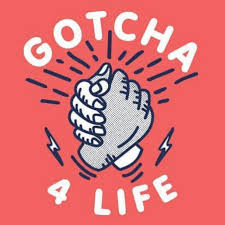 Established by Gus Worland, Gotcha4Life is a not-for-profit foundation committed to building mental fitness, social connection and resilience.  The foundation empowers all Australians to start the conversation and look after yourself, your mates and the wider community.
Click here to go to the Gotcha4Life website.
A message from the OSCA Chaplain, Graham Bradbeer, August 17, 2020:
You've probably noticed the pandemic is changing our vocabulary. Who expected the year of "ISO", or that "G'day" would give way to "Stay Safe", or "Take Care" would acquire new levels of significance?
Between Stage 3 and Stage 4 lockdowns my wife and I escaped to Bondi to see three of our  grandchildren. We loved the cliff top walk to the Gap Park at South Head. Alas, the Gap for all its magnificence and beauty, has a dark side; it is a renowned suicide spot.
This year we noticed the tribute plaque to Don Ritchie OAM, a Vaucluse resident (and Scots College Old Boy) who became known as the Angel of the Gap. Mr Ritchie would regularly cross from his house to the cliff top path to talk to distressed people. Over 50 years it is estimated that he saved the lives of hundreds of people.
As isolation makes demands on us all, let us remember that some of us are more vulnerable than we seem. Don Ritchie knew that a conversation with someone who cares, even a stranger, can transform everything.
At Scotch we know this too. We learned at school that for Christ's sake we should care!
Let's do it! …and hey,
stay safe!
Graham Bradbeer           
Useful Resources:
Headspace www.headspace.org.au
Beyond Blue www.beyondblue.org.au
Lifeline: 13 11 14