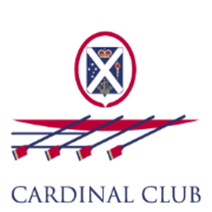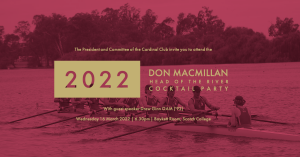 The President and Committee of the Cardinal Club invite you to attend the
2022 Don Macmillan Head of the River Cocktail Party
The event will be a celebration of Scotch rowing, past and present and will include commemoration of the decade crews from 1952 to 2012, including the 2012, 1992, 1952 winning crews.
The night is in honour of one of the greats of Scotch and Australian rowing, Don Macmillan and is held each year in the lead up to the APS Head of the River.
Guest Speaker:  Drew Ginn OAM
Drew began his rowing career at Scotch College, being part of the winning 1992 Head of the River crew.
He is a five-time world champion rower, a four time Olympian and triple Olympic gold medallist.
From 1995 to 1998 he was a member of Australia's prominent world class crew – the coxless four known as the Oarsome Foursome. 

Parents of current rowers are encouraged to attend.
A Row Past of the 2022 Scotch 1st and 2nd VIII Crews will occur at 6.30pm along the Scotch straight.
A toast to the 2022 Scotch 1st VIII Crew will be proposed by Ben Strang, Captain of Boats 2021. A viewing of Scotch Rowing Memorabilia will also be available on the night.
We hope that you will be able to celebrate with us.
Date:
Wednesday 16 March 2022
Venue:
Boykett Room, Cardinal Pavillion
Scotch College
Time:
6:30 – Row Past on the Yarra (sharp)
7.00pm – 10.00pm – Cocktail Party
Dress: Smart Casual
Cost: $75 or $55 for Young Old Boys 2010 -2020
(2021 Old Boys free of charge but are still required to RSVP)

RSVP: by Monday 14 March 2022
Please direct enquiries about this event to Jodie Emmett at:
E: jodieemmett@mac.com or M: 0416 145 024