2018 MCG Visit: Bruce Brown, Betty Ladbury, Neville Fuller, Judy Flynn, Betty Fuller, John Flynn, Jeff Watson, Douglas Galbraith, Pauline Christie, Colin Christie, Pamela Holmes, Rosalind Nunn, Robyn Doherty, Val Watson, David Hosking, Jill Hosking, Bev Savage, Ian Savage, Graham Bradbeer, Marlene Bevan, Christine Bradbeer, Mim Blomquist, Joyce Donaldson, Gordon Donaldson, Lesley Armstrong, Eric Armstrong.
Absent: Nell Eggleston, Alan Shugg, Hugh Wilson
Old Scotch Past Staff Club
Scope of the Club
The Old Scotch Past Staff  Club was established in 2008 and currently has over 180 members.
The club embraces both teaching and non-teaching staff from every area of the School (including both the Junior and Senior schools) and their partners.
The purpose of the OSPSC is:
To promote the social and recreational interests of past staff by providing regular club events each year and allow members to bring partners.
To keep former colleagues in touch with one another and promote their welfare as need arises.
 To maintain contact between past staff and the College.
Currently the committee comprises Ian Savage (President), Bruce Brown (Vice President), David Hosking (Treasurer), Lesley Armstrong, Don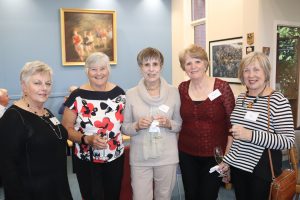 Davenport, Doug Galbraith,  Christine Robertson, Ken Wheat and Hugh Wilson (Secretary).
The club arranges 4 or 5 events each year. These include cocktail parties, brunches, visits to places of interest around Melbourne usually followed by lunch.  Some recently visited places include State Parliament, Rippon Lea, Bishopscourt, MCG and State Library.
Membership
Membership of the club is open to any past member of the staff of Scotch College – both teaching and non-teaching who has been employed on either a Full or Part Time basis for a period of five years and their partners. Membership affords access to reduced attendance costs to all club events and is confirmed by a one-off payment of $75 for past staff and $35 for a partner.
Click on the following link to download a membership form:
Alternatively, click here to join directly online.
2023 Event Schedule
Visit to Scotch at Cowes, Philip Island followed by lunch at Nobbies.
Thursday 30 November 2023:
Old Scotch Past Staff Club Cocktail Party at Scotch
Download the OS Past Staff Club Newsletter here: OSPSC Newsletter – MAR 2023
Please direct all enquiries to:
secretaryospsc@gmail.com