London Branch
London Branch events are held bi-annually.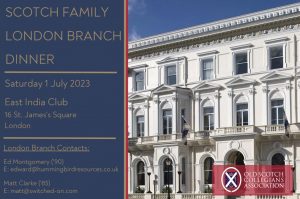 You are warmly invited to attend the Scotch Family London Branch dinner hosted by the Old Scotch Collegians' Association.
Past students, their partners and Scotch Family members based in the United Kingdom or passing through are welcome and encouraged to attend:
DATE:             Saturday 1 July 2023
TIME:              6.15pm for 7pm
VENUE:          East India Club.  16 St. James's Square, London
COST:             $140AUD per person.  Includes dinner and beverages.
$90AUD per person for young alumni (2013-2022)
Click here to book your tickets
Bookings close Saturday 17 June 2023
Please make sure your contact details are up to date – click here.
Please contact our Branch administrators for more information.