Are you a film buff who enjoys seeing an eclectic mixture of old and new, foreign and local films, dramas, comedies and musicals? Do you enjoy a chat over a light supper at no cost?  If so, the Old Scotch Film Society certainly has a lot to offer you.
The society has operated continuously since 1975, showing 11 films a year. It was originally established within the Scotch Family Association to encourage interest in film as an art and as a medium of information, education and entertainment. The society has now become affiliated with the Old Scotch Collegians' Association and is a member of the Federation of Victorian Film Societies.
Where and When
Screenings commence at 8pm on various Tuesdays in the Fraser-Smith Theatre at Scotch, except during the cooler winter months when we have three Sunday afternoon Winter Warmer Matinees, commencing at 2.00pm in June, July and August. Following the last film for each year in December, members enjoy a Christmas 'break-up' Supper for no extra charge.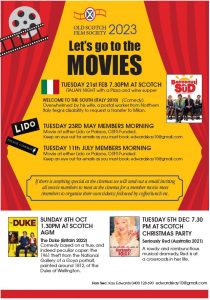 Download the 2023 movie schedule here:
Membership
Membership is open to persons over 18 years of age, who are past students, relatives of present and past students, staff and employees of Scotch College and their friends. The annual subscription is $40 per person.
Download a membership application form here:
OS Film Society Membership Form 2023